NEW ANTIQUE FINISH TIGER FLAMED 4/4 STRAD FULLSIZE GERMAN VIOLIN FIDDLE
$ 119.99
DISPONIBLE=EN=>>EBAY
Descripción

.copyright {
color : #000000;
font-size : 8pt;
font-family : arial, helvetica, sans-serif;
}
.link {
font-family: verdana, sans-serif;
font-size:12px; underline;
color:#0000ff;
}
HR {
color: #000000;
}
.item_image{
}
.description {
font-family: Helvetica, sans-serif;
color: #000000;
font-weight: normal;
font-size: 10pt;
}
.patternframe {
background: url(https://imagehost.vendio.com/my/templates/Patterns/Seasonal/Spring/pattern_linen2.jpg);
border: 1px solid #cccccc;
padding: 20px 20px 20px 20px;
}
.stencilframe {
background: url(https://imagehost.vendio.com/my/templates/Patterns/Seasonal/Spring/pattern_linen2.jpg);
}
.stencil_bottom {
background:url(https://imagehost.vendio.com/my/templates/Stencils/Corners/.samples/Plaque%20Corners/bottom.gif)
}
.stencil_top {
background:url(https://imagehost.vendio.com/my/templates/Stencils/Corners/.samples/Plaque%20Corners/top.gif)
}
.stencil_left {
background:url(https://imagehost.vendio.com/my/templates/Stencils/Corners/.samples/Plaque%20Corners/left.gif)
}
.stencil_right {
background:url(https://imagehost.vendio.com/my/templates/Stencils/Corners/.samples/Plaque%20Corners/right.gif)
}
.main{
background: url(https://imagehost.vendio.com/my/templates/Patterns/Nature/Floral/BusyBeesGreen.jpg);
border: 0px solid #FFE5BB;
padding: 20px 20px 20px 20px;
width: 100%;
}
.navlinks {
background: #90B742;
border: 1px solid #FFE5BB;
text-align : center;
padding: 5px 5px 5px 5px;
width: 100%;
}
.navlink {
font-family: Times New Roman, serif;
color: #FFE5BB;
font-weight: bold;
font-size: 12pt;
}
a:link.navlink, a:visited.navlink, a:active.navlink, a:hover.navlink {
color:#FFE5BB;
}
.titledata {
font-family: Georgia, serif;
color: #000000;
font-style: italic;
font-weight: normal;
font-size: 18pt;
filter: dropshadow(color=#FFD796, offx=2, offy=3);
}
.titlebox {
border: #cccccc solid 0px;
padding: 10px 10px 10px 10px;
text-align : center;
background: #FF0000;
}
.descriptionbody {
border: 0px solid #cccccc;
padding: 15px 15px 15px 15px;
background: #FFE5BB;
width: 100%;
}
.standardheader {
background: #90B742;
border-bottom: 1px solid #926417;
padding: 5px 5px 5px 5px;
width: 100%;
}
.standardheadertd {
font-family: Times New Roman, serif;
color: #FFE5BB;
font-weight: bold;
font-size: 12pt;
}
.standardheaderlink{
color: #FFE5BB;
font-size: 10;
font-family: Arial, Helvetica, sans-serif;
}
a:link.standardheaderlink, a:visited.standardheaderlink, a:active.standardheaderlink, a:hover.standardheaderlink {
color: #FFE5BB;
}
.standardtext{
font-family: Helvetica, sans-serif;
color: #000000;
font-weight: normal;
font-size: 10pt;
padding: 5px 5px 5px 5px;
width: 100%;
}
.custombox {
border: 0px solid #cccccc;
padding: 10px 10px 10px 10px;
background: #FFE5BB;
width: 100%;
}
.customboxheader {
font-family: Times New Roman, serif;
color: #90B742;
font-weight: bold;
font-size: 18pt;
padding: 10px 10px 10px 10px;
}
.customheader{
background: #90B742;
border-bottom: 1px solid #B77D1D;
padding: 5px 5px 5px 5px;
width: 100%;
}
.customheadertd{
font-family: Times New Roman, serif;
color: #FFE5BB;
font-weight: bold;
font-size: 12pt;
}
.customheaderlink{
color: #FFE5BB;
font-size: 10;
font-family: Arial, Helvetica, sans-serif;
}
a:link.customheaderlink, a:visited.customheaderlink, a:active.customheaderlink, a:hover.customheaderlink {
color: #FFE5BB;
}
.customtext {
font-family: Helvetica, sans-serif;
color: #000000;
font-weight: normal;
font-size: 10pt;
padding: 5px 5px 5px 5px;
width: 100%;
}
.customlink {
color: #0000ff;
text-decoration: underline;
}
a:link.customlink, a:visited.customlink, a:active.customlink, a:hover.customlink {
color: #0000ff;
}
.customimagelink {
border-color: #0000ff;
}






4/4 FULL SIZE CONCERT VIOLIN/FIDDLE-GERMAN

BEAUTIFUL ANTIQUE FINISH FULLSIZE ROTHENBURG VIOLIN!!!!!!!!!!!!!

You are bidding on a new 4/4 full size ROTHENBURG VIOLIN. This is an excellent mature warm sounding violin for any player. Violinist are amazed by the tonality the violin produces. It features a beautiful tight flamed antique stain finish.
Most store retail is $725.oo.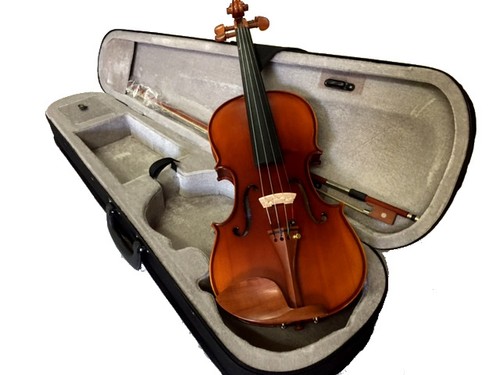 This violin offers the player a superb looking violin with the sound and workmanship to match. The backs and sides are made from select maple and the top is made from Bear claw spruce. The violins have rosewood pegs, tailpiece, and chinrest.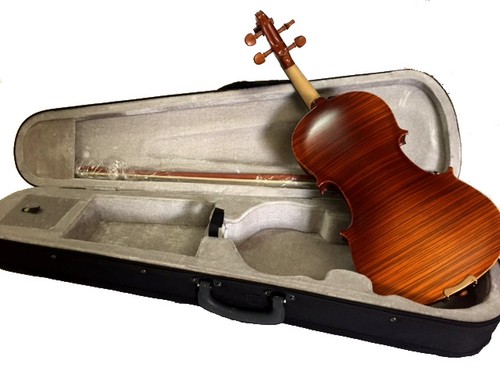 The violin comes with a nice Brazilwood bow with genuine horsehair bow. It comes with a sturdy case, which is hard and lined on the outside with 600D stenght cordura and the inside is plushlined for protection. It has plenty of storage for accessories. The tonality and range of the ROTHENBURG is super. The violin has been set up and calibrated by our staff for maximum tonality and playability. Once you receive the violin all you will have to do is rosin the bow and tune it. Inside label says "ROTHENBURG violin. Copy of violin made by Antonio Stradavarious in the year 1732."



ROTHENBURG, which is German engineered has a tradition of making fine string instruments. American music educators and musicians have been associated with the superb quality of ROTHENBURG violins for years. These violins have set a standard of excellence.
THANKS FOR LOOKING!!!!!!







Información adicional
| | |
| --- | --- |
| Type | ACOUSTIC |
| Brand | Unbranded |
| MPN | 4/4 ROTH |
| Size | 4/4 |
| Skill Level | Intermediate |
| UPC | Does not apply |