KOCASO 7″ Tablet PC Android 4.4 Quad Core 8GB Dual Camera WiFi 1.2GHz Kids Gift
$ 45.99
DISPONIBLE=EN=>>EBAY
Descripción
eBay page

DX758 Pro 7 " High Resolution Android 4.4 Quad-Core 1.2GHz Built-in 8GB Memory Dual Camera Tablet PC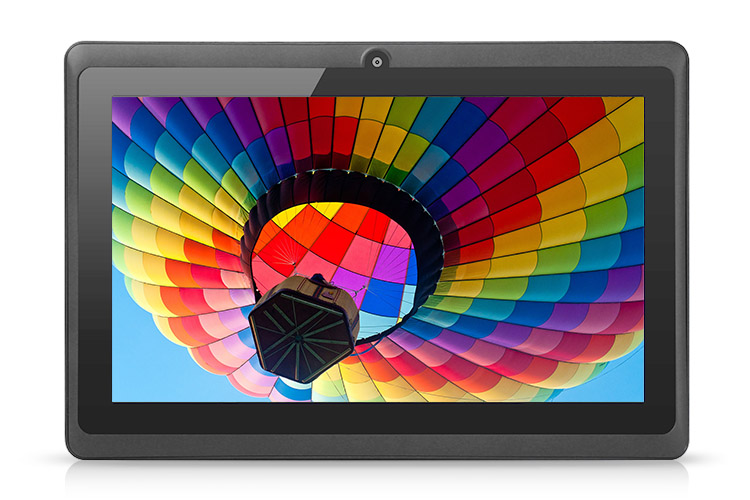 Model No.:DX758 Pro_Black
Unopened, Everything is Kept in the Original Factory Sealed Box
Description

Features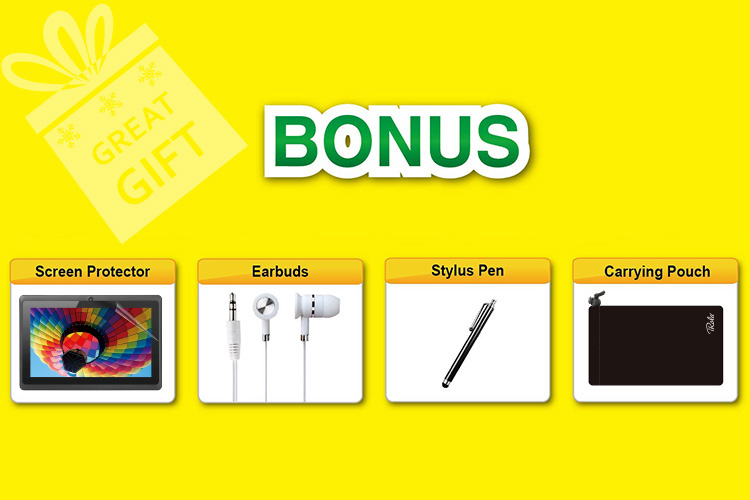 Specifications

Screen
7″ High Resolution Screen 1024*600 Pixels
CPU
Quad Core @Up to 1.2GHz, ARM Cortex A9
ROM
Built-in 8GB Nand Flash(Up to 32GB)
RAM
512MB DDR3
3G
Supports External 3G USB Dongle
OS
Android 4.4
Network
IEEE 802.11 b/g/n
Camera
Front Facing 0.3MP and Rear Facing 2.0MP
Audio Input
Built-in Microphone
Battery
Li-ion Battery 2500 [email protected], Runtime 3.5 Hours
Language
Support Multiple Language
I/O Interface
TF Card Slot, USB OTG, Earphone Jack
Unit Weight
0.66 Lbs
Unit Dimension
7.17" × 4.76" × 0.43"(L×W×H)
Audio Format
MP3, WMA, OGG, APE, FLAC, AAC, WAV etc.
Video Format
MKV, AVI, RM, RMVB, MP4, MOV, VOB, DAT, FLV, 3GP, VP8, WMV, H.263, H.264 etc.
Software
Browser, Calculator, Calendar, Email, Video, Voice Search, Maps, Movie Studio, Music, Sound Recorder, ApkInstaller etc.
Bluetooth
Yes
Color
Black, Red, Silver, Blue, White, Purple, Pink
Package Contents

* 1 x iRola DX758 Pro Tablet PC
* 1 x User Manual
* 1 x USB Cable
* 1 x Earbuds
* 1 x Stylus Pen
* 1 x Power Adapter
* 1 x OTG Cable
* 1 x Screen Protector

FAQ

Question 1: Why does my screen look all scratched up?

Your tablet comes with a screen cover on it to protect it. This is a thin film of plastic that you can peel up at the edge or corner of the screen. Taking it off will reveal a shiny, brand new screen.

Question 2: How do I download apps?

In addition to the standard app package, Kocaso tablets come pre-loaded with the Google Play Store, where you can download apps. It's easy to use, and best of all, there are many great apps available for free!

Question 3: How do I get more storage for my tablet?

Simply insert a micro SD card (not included with the tablet unless otherwise specified) into the TF card slot on your tablet. All Kocaso tablets support up to a 32GB micro SD card. A micro SD card is great to have to store all your pictures, apps, music, and anything else you have!

Question 4: How do I connect to WiFi?

First, make sure there's a WiFi connection available—tablets can't generate internet on their own! Make sure you have the password to connect to the WiFi, and that your connection is WPA secured. Next, go to the tablet's settings, and then to WiFi. Select the name of the wireless connection, input the password, and touch "Connect."
Congratulations! You're now connected to WiFi.
Question 5: Do I need to do a firmware update?

If your tablet is working fine, you don't need to perform any updates or resets. However, if a problem does occur, don't hesitate to contact us for technical support.

Question 6: Does my tablet need a stylus?

If your tablet has a resistive touchscreen (needing pressure to operate), then you need a stylus, and one will be included with your tablet. If you don't see it right away, check in the packing of the box the tablet came in, and look for a ridged section on the corner of the tablet—sometimes the stylus will be slid into its own compartment.
If your tablet has a capacitive touchscreen, you do not need a stylus. Your finger will be enough. However, if you find that using a finger isn't quite as intuitive as you'd like, there are capacitive styluses that you can purchase to make your life easier.
Información adicional
| | |
| --- | --- |
| Brand | Kocaso&iRola |
| Type | Tablet |
| MPN | DX758Pro |
| Operating System | Android 5.1 Lollipop |
| Screen Size | 7" |
| Storage Capacity | 8GB |
| Internet Connectivity | Wi-Fi |
| Hardware Connectivity | Micro USB, Wi-Fi, USB |
| Features | Built-In Front Camera, Built-In Rear Camera, Color Screen, Email, Expandable Memory, Integrated Speakers, Media Player, Touch Screen, Video Recorder, Web Browser |
| Processor Speed | 1.3GHz |
| Resolution | 1024 x 600 |
| Processor | Quad Core |
| RAM | 1GB |